There are certain authors I can't read at night because their fountains of language induce an electrically charged insomnia. Whitman, Joyce, Woolf, Faulkner, Beckett, Cormac McCarthy, and others have cost me many nights' sleep and thousands of dollars in lost income. My attorney is looking into a class-action suit.
Another writer in that category is Donald Barthelme, who was born  April 7, 1931 and died in 1989. Barthelme sometimes described his stories and novels as "slumgullions" – referring to the stews that 19th century gold miners threw together out of vegetables, potatoes, meat and anything else on hand. In book after book, from Come Back, Dr. Caligari in 1964 to Forty Stories in 1987  Barthelme created a Collier-Brothers' accumulation of stories, sketches, word-collages, and bricolage assembled from the artifacts of American culture. He seemed to believe that every ingredient in a good slumgullion is necessary and essential, and, more importantly, that it is all sustenance. The result is a body of work that celebrates both the abundance of the world and the author's own creativity (there is perhaps no distinction between them). Barthelme's singular genius was in manipulating in fresh, startling, meaningful, sometimes poignant, and often hilarious ways what he described (in his essay "Not-Knowing) as the "combinatory agility of words."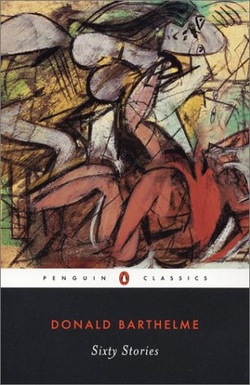 That agility is on brilliant display in story after story. To take an example almost at random: In "The Indian Uprising," a modern city is threatened by invading Comanches. The narrator, while awaiting the attack, studies the composition of a barricade constructed from objects gathered from the city, and found "…two ashtrays, ceramic, one dark brown and one dark brown with an orange blur at the lip; a tin frying pan; two-liter bottles of red wine; three-quarter liter bottles of Black & White, aquavit, cognac, vodka, gin, Fad #6 sherry; a hollow-core door in birch veneer on black wrought-iron legs; a blanket, red-orange with faint blue stripes; a red pillow and a blue pillow; a woven straw wastebasket; two glass jars for flowers; corkscrews and can openers; two plates and two cups, ceramic, dark brown; a yellow-and-purple poster; a Yugoslavian carved flute, wood, dark brown; and other items. I decided I knew nothing."
The narrator's appraisal of his own lack of knowledge is soon confirmed by an "unorthodox" teacher, Miss R., who says, "You know nothing… you feel nothing, you are locked in a most savage and terrible ignorance…"
She continues: "'The only form of discourse of which I approve… is the litany. I believe our masters and teachers as well as plain citizens should confine themselves to what can safely be said. Thus when I hear the words pewter, snake, tea, Fad #6 sherry, serviette, fenestration, crown, blue coming from the mouth of some public official, or some raw youth, I am not disappointed… Some people…run to conceits or wisdom but I hold to the hard, brown, nutlike word. I might point out that there is enough aesthetic excitement here to satisfy anyone but a damned fool."
Here's to the hard, brown, nutlike word!