Welcome to my website. I hope you'll look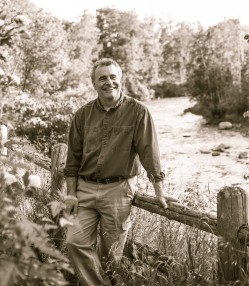 around a bit and, if you have questions or comments, drop me a note. You might also consider signing up at the bottom of this page for my sort-of-regular monthly newsletter, in which I keep readers notified of new work and other timely stuff. And if you're a Facebook person, please visit the Jerry Dennis, Author page and, if you're inclined, click the "like" button.
Many new projects are under way, including some rather surprising turns from what I've done before, so please check back often.
BIOGRAPHY
Jerry Dennis grew up in northern Michigan and has earned his living as an independent writer since 1986. His essays and short fiction have appeared in more than 100 publications, including The New York Times, Smithsonian, Audubon, Orion, American Way, Gray's Sporting Journal, and Michigan Quarterly Review. His books, many of them illustrated by artist Glenn Wolff, are widely acclaimed, have won many awards, and have been translated into Chinese, Japanese, German, Portuguese, Czech, and Korean.
In 1999 the Michigan Library Association named Jerry the Michigan Author of the Year, and in 2003 the University of Louisville's School of Arts and Sciences recognized his achievements in literature with its Outstanding Alumnus of the Year Award. He is a frequent guest speaker at universities and elsewhere and since 2000 has served on the faculty of the University of Michigan's Bear River Writers Conference, where he teaches workshops in creative non-fiction and the sense of place. He and his wife, Gail, live near the shore of Lake Michigan not far from Traverse City, Michigan.
In 2014 Jerry teamed with artist Glenn Wolff and creative director Gail Dennis to form Big Maple Press, publishing special editions of their books and making them available for sale only at independent bookstores. (Read why they took this step.)