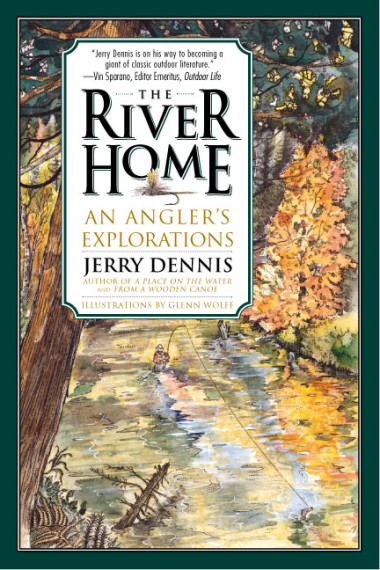 St. Martin's Press, 1998
By Jerry Dennis. Illustrations by Glenn Wolff
Ebook edition $5.99. Select Kobo, iBookstore, B&N, or Amazon here.
---
DESCRIPTION
The River Home: An Angler's Explorations (St. Martin's 1998). Ranging from northern Michigan to Iceland, Chile, and the fabled rivers of the American West, this collection of award-winning essays and short fiction celebrates the complexities and delights of family life, the sacredness of secret places, water in all its forms, quirky fishing companions, and the occasional naked angler. Named Best Book of 1998 by the Outdoor Writers Association of America.
REVIEWS
"Jerry Dennis is on his way to becoming a giant of classic outdoor literature." — Vin Sparano, Outdoor Life
"The bright and sharply written book is a guide to a life lived consciously, a prerequisite and bonus of the sport done well." — USA Today
"Collections of essays about the outdoors and fishing crowd the shelves, but Dennis's fresh writing and marvelous insights merit special attention. This fine collection will appeal to fans of Hal Borland, W.D. Wetherell, and Nick Lyons, as well as to those who enjoy the essays of fiction writers William Tapply and Thomas McGuane." — Booklist
"Even if you've never pulled on a pair of waders, you should read this funny and wise book about fly fishing – and a lot more." — Georgia Times-Union
"Whether you are a fisherman or not, the author's clear prose is compelling and a pleasure to read." –Chattanooga Free Press
"Jerry Dennis writes of fly fishing as well as anyone, in both essays and short stories, blending a lyric prose style with an uncommonly sharp eye and a generous imagination."
— W.D. Wetherell, author of North of Now
"Here are some of the best stories about growing up in the outdoors since Hemingway wrote the Nick Adams stories." — Flint (Michigan) Journal
"In this book, Dennis elevates the typical 'outdoor' essay, usually a mere recollection of adventures while hunting, fishing, camping, canoeing, or pursuing other outdoor activities. He has transcended the typical by blending in elements of 'nature' writing: observation, research, speculation about the world in which the sportsman places himself." — The Oakland Press
"Jerry's style is comfortable and readable. I found myself laughing out loud at some of his situations and contemplating deeper meanings in others." — Midwest Fly Fishing
"One hesitates to refer to Jerry Dennis as an 'outdoor' writer or The River Home as a book about 'fishing'; both have far transcended their respective genres. Dennis is an extraordinarily gifted writer, and these beautifully written essays and stories – warm, wise, and funny – use angling to explore the timeless themes of family, friendship, home, and a man's place in the natural world. Never cynical – even in the face of the loss and change that haunt all fishermen – always contemplative and celebratory, The River Home is a perfect gem." — Jim Fergus, author of A Hunter's Road
"Early on in The River Home, Jerry Dennis makes a distinction between hearing and listening: 'We hear traffic and airport noise. We listen to laughing children and hooting doves; to wind-stirred aspen, trout sipping mayflies.' Well, listen up, Jerry Dennis writes words to listen to, and you won't want to miss one." — Pete Fromm, author of Dry Rain and Indian Creek Chronicles
"The River Home is a delightful book. In fact it is one of the most enjoyable fishing books that I have ever read. It's the kind of book you could read in one sitting: a sitting that would appropriately take place in a comfortable chair beside a fireplace in a rustic log cabin somewhere. At least this is the kind of mental image I get when reading Jerry Dennis's fine work." — The Riverwatch
"Many times I stopped to reread passages simply because they were so well written – and that's about the highest praise I can give any writer." — Silent Sports