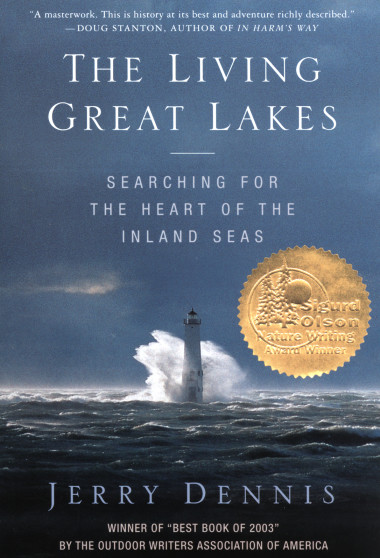 St. Martin's Press, 2003
By Jerry Dennis.
---
DESCRIPTION
The story of the Great Lakes unfolds during an epic journey on The Malabar, a two-masted schooner the author helped sail from Lake Michigan to Bar Harbor, Maine. Battling storms and internal strife, the crew of five navigate the lakes and their connecting waterways, traverse the Erie Canal and a flooding Hudson River, and make their way around Manhattan to Long Island Sound and up the Atlantic coast to Maine. Awards include the 2004 Sigurd Olson Nature Writing Award, the Best Book of the Year from the Outdoor Writers Association of America, the Stuart D. and Vernice Gross Award for Excellence in Literature, and the Great Lakes Culture Award. The book was also a finalist for the Great Lakes Booksellers Association's Book of the Year and was selected as a 2004 Michigan Notable Book by the Michigan Library Association. A perennial favorite of book clubs across the U.S. and Canada, it has been a community reads selection more than a dozen times, including the 2009 "Traverse City [MI] Reads," the 2010 "Ann Arbor/Ypsilanti Reads," and the 2015 "Reading Together" selection for Kalamazoo [MI].
Nicola's Books in Ann Arbor, the best independent bookstore in one of the best book towns in America, recently named The Living Great Lakes the best-selling nonfiction book in their 15-year history.
And McLean and Eakin Bookstore in Petoskey, Michigan, has named it the best-selling nonfiction in their 20 years of business, surpassing even most of their fiction titles, including those featuring some guy named Harry Potter.
REVIEWS:
"A fine guide to the Great Lakes with a storyteller's sense of pacing, savvily blending the factual with the picaresque." — Kirkus Reviews
"Dennis touches on all five lakes in this compendium, endowing his chronicle with a breadth that makes it a fine introduction to the lakes' ecology."– Booklist
"Wonderful." — The Oakland Press
"The most irresistible account yet of the freshwater heart of North America." — Ann Arbor Current
"A fine guide, borne along with a storyteller's sense of pacing and blend of fact with picaresque….Dennis writes in a polished and alluring style, though its pants aren't fancy; not homespun, but comfortably worn. " — American Geographical Society
"Simply the finest natural history that I have ever read… [Dennis'] best work to date… you owe it to yourself to read this book." — Sault Ste. Marie (Michigan) News
"In a skillful blend of solid research and compelling storytelling, Dennis succeeds in giving readers a new appreciation of a resource that's easily taken for granted. It's a tribute to his ability as a writer that he covers as much ground as he does while keeping the book moving at a brisk pace." – Hamilton (Ontario) Spectator
"A stirring account of a schooner voyage through some of the most beautiful scenery on the planet." — Globe and Mail (Canada).
"I would compare [Dennis's] style to John McPhee's. Both are masters at interweaving a narrative, of spending time with the focus of their articles and books. A must for summer reading."–The Weather Doctor
"Thoroughly entertaining." — Chicago Sun Times
"A vigorous adventure story packed with tidbits about the Great Lakes' extraordinary human and natural history. Dennis brings to his subject a respect born of knowledge of the sublime, deadly power of the lakes' storms and of the impact that countless tons of waste can have on waters whose resilience, though formidable, is not unlimited."
— Nature Conservancy magazine
"The Living Great Lakes is the best history, nature, and adventure book I've ever read…I couldn't put the damn thing down."– Great Lakes Angler
"Engrossing…Dennis weaves anecdotes from his childhood together with informed commentary on the natural history of the lakes and the people who live there as well as evocative descriptions of the enchanting view of the forests along Lake Superior from the schooner. His narrative is a continual reminder of the dangers inherent in navigating these magnificent lakes as he details their current condition." — Publishers Weekly
"A comprehensive look at the Great Lakes, delving into the cultural and natural history of this vast inland body of fresh water." — Library Journal
"Making environmental medicine go down smoothly is not always easy, but Jerry Dennis does the job superbly in The Living Great Lakes." — Michigan Environmental Report