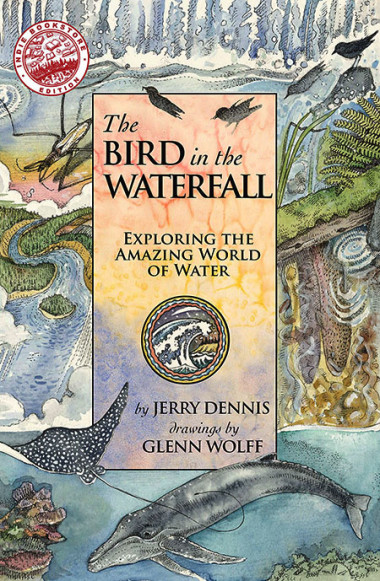 Big Maple Press, 2014
By Jerry Dennis. Illustrations by Glenn Wolff
NOW IN PAPERBACK, THE INDIE-STORE EDITION
ebook of the DCA Edition is now available at all the usual places


---
DESCRIPTION
The Bird in the Waterfall: Exploring the Amazing World of Water (Big Maple Press, 2014) is the newly updated indie-bookstore edition of the title originally published in 1996 by HarperCollins Publishers. Named the Best Book of the Year by the Outdoor Writers Association of America and selected for the Michigan Reads program.
THERE IS NOTHING IN THE UNIVERSE LIKE WATER. It is the most abundant compound on earth, yet it is far from ordinary. It appears to be simple: fluid at normal temperatures, frozen when cold, vaporous when heated—too transparent to be complicated and too plentiful to be precious. But appearances deceive. Water is among the most remarkable of all compounds.
In The Bird in the Waterfall Jerry Dennis and Glenn Wolff explore water in all its complexity, from the unique structure of its molecule to the elaborate mechanics of the hydrological cycle; from the natural history of oceans, rivers, and lakes to the life histories of the creatures that live in them. They examine ice-caps and rogue waves, meandering rivers and subsiding aquifers, a fish that lives only in tiny desert pools and a bird that prefers to nest behind waterfalls. And they explore the complicated history of how we have treated—and mistreated—this substance without which there could be no life.
At the heart of the book is a profound appreciation for the nature, science, and lore of water––and a passionate appeal for the protection of this most vital of the earth's resources.
Winner of the Best Book of the Year Award from the Outdoor Writers Association of America.
REVIEWS
"I can't think of anyone I know – angler, conservationist, scientific reader, curious kid – who wouldn't enjoy, and learn from, this unusual book. And from endpaper to endpaper, it's a visual delight, too." — Fly Rod and Reel Magazine
"The Bird in the Waterfall is truly science for everyone. When you have finished reading it, you will not only know more, but you may become as charmed with water as Dennis is." — Earth Magazine
"Jerry Dennis is one of today's most readable and informative nature essayists, and his latest book, The Bird in the Waterfall, is a marvelous look at the natural history of oceans, rivers, and lakes. It ought to be required reading for anyone who loves the outdoors, angling, surfing, beachcombing, or birding." — Buffalo News
"A lovely natural history… written with a grand, entertaining style." — Detroit News
"Full of the expertly crafted prose which makes Dennis the most nationally prominent of Michigan's nature writers." — Oakland (MI) Press
"Like all fine nature writing, this book instills a renewed sense of wonder for our natural world. A simple drink of water will never be the same again after reading The Bird in the Waterfall." — Flint Journal
"A passionate appreciation for the magic, music, and poetry of water, and an appeal for the protection of this most precious of the earth's resources." — Natural Resources and Wildlife
"A masterful work of natural history [that] exerts a steady and inexorable pull. This read is well worth your while." — Traverse Magazine
"Jerry Dennis's clear-eyed essays surpass mere explanation of facts; he conveys the rare gift of understanding the workings of nature, along with passion for its beauties and terrors. His prose is admirably paced with Glenn Wolff's artistic microcosms." — Arts Borealis
"Dennis teams once more with artist Glenn Wolff to create a wonderful compendium of fact and folklore, historical drama, and personal anecdote about earth's most marvelous compound. Dennis's easy writing style reduces scientific fact to fun. From mermaids to sea monsters you'll learn something on every page." — Michigan Out-of-Doors
"Nature writer Dennis conveys his deep feelings for all aspects of the aquatic realm… and parlays his fascination with the dynamics of bodies of water into a richly informative description of how lakes and rivers support myriad life-forms." — Booklist
"Jerry Dennis knows water. His new book is a tribute to the magic, music, and poetry of water and an appeal for the protection of this most precious of the earth's resources… a perfect choice for adults and kids alike who want to discover more about how the world is put together."
— Lake Country Gazette