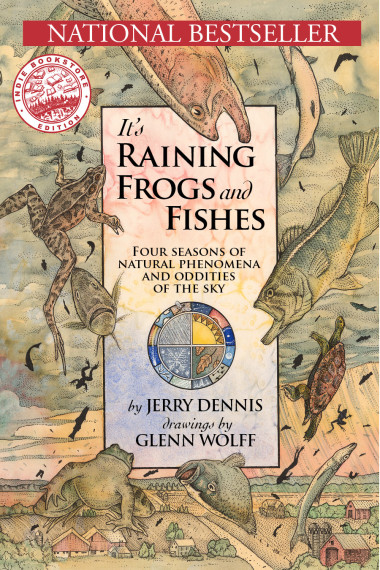 Big Maple Press, 2014; HarperCollins, 1992
by Jerry Dennis. Illustrations by Glenn Wolff
NOW AVAILABLE FROM BIG MAPLE PRESS! THE NEW AND IMPROVED INDIE EDITION OF OUR NATIONAL BESTSELLER.

Big Maple Press paperback: $16.95
Collectible 1st Edition Hardcover, HarperCollins,1992, mint condition: $60
(prices do not include shipping or sales tax)
Ebook edition $5.99. Select Kobo, iBookstore, B&N, or Amazon here.
---
DESCRIPTION
It's Raining Frogs and Fishes: Four Seasons of Natural Phenomena and Oddities of the Sky (Big Maple Press, 2014. Originally published by HarperCollins in 1992). The newly updated and spruced-up indie-bookstore edition of Jerry Dennis's and Glenn Wolff's first collaboration. Beautifully illustrated by Glenn. Everything you ever wanted to know about what goes on above the earth, from the weird to the commonplace in weather, wildlife behavior, and naked-eye astronomy. Translated into five languages and a national bestseller.
REVIEWS
"Amusing the illuminating…This writer-artist team shines and bright and lovely light on nature." — Los Angeles Times
"Charming, informative, humorous, and scholarly… embraces wind and weather, the sun, the moon and stars, the seasons of the year and the effect of these things on the denizens of this planet. It is a delight." — Nelson Bryant, New York Times columnist
"A perfect choice for adults and kids alike who want to discover more about how the world is put together… entertaining and fact-filled." — Houston Post
"Parents take note: Here's how to explain comets (stars with horrid hair) and frost (flowers of ice)… surprisingly nontechnical." — Detroit Free Press
"For anyone interested in natural history, there are few texts to rival this one." — Booklist
"As leaves fall and the sky becomes more noticeable, you're likely to look towards the heavens and wonder at their mysteries… Author Jerry Dennis and illustrator Glenn Wolff address the questions with intelligence, wit and artistry." — Atlanta Constitution
"A delightful book, both readable and informative — like the best of Hal Borland and Edwin Way Teale…You've many hours of pleasure waiting with It's Raining Frogs and Fishes." — Richmond Times-Dispatch
"Vastly entertaining, valuable… Makes natural history so much fun the reader is sucked from paragraph to paragraph, page to page, chapter to chapter." — St. Louis Post-Dispatch
"With text that mesmerizes, drawings that enchant, and a dust jacket that simply feels good, this book calls you to hold it open before you." — The Oakland (Michigan) Press
"This delightful look at nature…is a cornucopia of fact and lore. Wit, humor, wonder, and reverence spice and season the vignettes herein. "It's Raining…" reminds adults — especially in this hectic, fast-paced, just-do-it world — that it is more than OK, it is desirable, to be child-like and to look up at the heavens and ask why." — Toledo Blade
"This is a perfect choice for adults and kids alike who want to discover more about how the world is put together. Dennis has done a good job of entertaining and informing at the same time, and and Glenn Wolff's black-and-white illustrations gracefully supplement the fact-filled text. It's enjoyable reading and a good reference for anyone's library."
— Sacramento Bee
"Dennis has a knack for being at once scholarly and readable, which makes this book both instructive and enjoyable. You can't ask for much more than that…This is a book no home should be without." — Binghamton (NY) Press and Sun-Bulletin
"Charming… wonderfully illustrated… will make heroes of parents and teachers, who will be able to explain nature's magic and the superstitions surrounding it."
— El Paso Times
"Dennis, who writes "The Natural Enquirer" for Wildlife Conservation magazine, is a consummate researcher and gifted storyteller. Wolff's drawings are first rate… This book is must reading for the naturally curious of all ages, and it belongs in every school library." — Michigan Out-of-Doors
"Clear, engaging prose and lovely, lucid illustrations… A most enjoyable field guide to the awesome panoply of the sky." — Stephanie Mills, author of In Praise of Nature
"A great new book for nature lovers… It's a delightful mix of hard science and folklore – which mix more often than you might think." — Lansing State Journal
"A generously illustrated inquiry into the science, legends, and folklore of such fascinating natural events as bird and insect migrations, solar and lunar eclipses, meteor showers, the Northern Lights, tornadoes, thunderstorms, and blizzards. It's Raining Frogs and Fishes is a magic act. With melodic prose and luminous drawings, Jerry Dennis and Glenn Wolff tear the curtain from the sky we all share, revealing the inner workings of weather, migration, shooting stars, rainbows, and more. Keep this book handy for times when life grows a bit too predictable. It's giddy, it's reverent, and it's guaranteed to get your heart beating with wonder again." — Janine Benyus, author of Beastly Behaviors