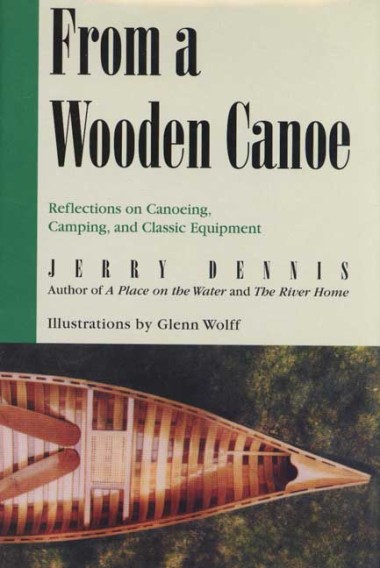 St. Martin's, 1999
By Jerry Dennis. Illustrations by Glenn Wolff.
Ebook edition $5.99. Select Kobo, iBookstore, B&N, and Amazon here
---
DESCRIPTION
From a Wooden Canoe: Reflections on Canoeing, Camping, and Classic Equipment (St. Martin's, 1999). Essays on some of the finer things in life, from duct tape to Coleman lanterns to long-johns to great moments on the water.
REVIEWS
"Jerry Dennis knows the good stuff: How to make your matches waterproof; why it's good to have a Thermos handy; and how long johns got their name. Mr. Dennis also knows how to write amusing, informative essays about the gear we use outdoors. From a Wooden Canoe is the most satisfying kind of nature writing because it makes you want to get up and get out. Give these essays a good read, and then find your own canoe."
— Wall Street Journal
"This homespun collection of essays will give you a whiff of the possibilities that lie beyond." — Entertainment Weekly
"A terrific way to get a lovely glimpse of the great outdoors." — USA Today
"As Jerry Dennis's recent book, From a Wooden Canoe, attests, canoes do inspire passion and fidelity. The thirty-one pieces here – most of them from the pages of Canoe and Kayak magazine – include tender odes to hand-hewn wooden paddlers and the rough work of portaging, as well as reflections on other old-school outdoor stuff: homemade waterproof matches, the smell of canvas, and the mysterious, indestructible thermos." — The New Yorker
"Dennis writes concise, well-informed, witty prose; his tone is friendly and appreciative of tradition without being maudlin. The celebratory tone of most of the essays is nicely tempered by a send-up of curmudgeons and a concluding essay that might have come from O'Neill's Long Day's Journey into Night. Recommend this fine example of literary outdoors writing to fans of Bill Barich and W.D. Wetherell." — Booklist
"Dennis brings a bright, childlike eagerness to these days on the stream or in the field and forest, burnishing their memory with thoughtfulness and elegance." — Kirkus Reviews
"This is a collection of elegant, short essays by a serious, gifted writer. Sometimes, when I've managed to construct that rare, decent sentence, a swagger develops, a cup of literary smug is poured. When this happens I turn to one of four literary craftsmen, read just a few pages, and am brought back to my humble reality. The writers are Jim Harrison, John McPhee, Thomas McGuane, and Jerry Dennis. From a Wooden Canoe joins Dennis's earlier works in my special bookcase." — Riverwatch
"Anything [Dennis] writes is worthy of a place on your nightstand, alongside your favorite recliner, or in a special spot on the bookshelf to be taken down from time to time and revisited like an old friend." — Oakland Press
"With this reader, Dennis is preaching to the converted. But I suspect even city slickers couldn't help but warm to his opinions." — Seattle Times
"More than anything, Dennis offers us an appreciation of the simpler things in life that many times pass us by in our breakneck pace of living. He shows us that just off the beaten path is a slower avenue, taken by countless generations before us and still available to enjoy if only we would take the time to look." — The Arkansas Democrat-Gazette
"Dennis has developed into a formidable writer for exploring the relationships of human beings with the natural world…Dennis's essays evoke a childlike joy and wonder at the magic of our experiences with the natural world… The reader finds in his essays the same solace that Dennis finds in traditional equipment and comes away from the book with a deeper appreciation of his eloquence and thoughtfulness." — Lake Country Gazette