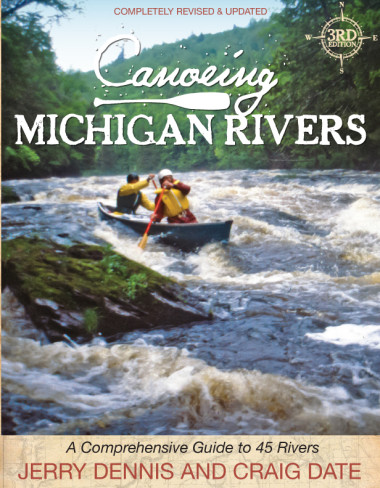 Thunder Bay Press, 2013
By Jerry Dennis & Craig Date.
$16.95
(price does not include shipping or sales tax)
---
DESCRIPTION
Canoeing Michigan Rivers: A Comprehensive Guide to 45 Rivers (Thunder Bay Press, 2013. Original edition published by Friede Publications in 1986), co-authored with Craig Date. Michigan's "bible" of canoeing, completely revised and updated, with detailed descriptions and maps of more than 1,500 miles on 45 of the the state's finest rivers.
For more information about paddling in Michigan, including river news, safety and technique tips, and Jerry Dennis's paddling blog, go to www.canoeingmichiganrivers.net.
REVIEWS
"Canoeing Michigan Rivers is the first definitive guide to canoeing in Michigan. The book is a great piece of information for the canoer who is advancing in skills and loos for the next step up in challenges, yet lets the novice know where he can canoe safely." — Michigan Sportsman
"Should be in the library of every canoer and fisherman…a goldmine of information, and the information is digested easily. A good book, an excellent read and a wealth of information on moving water by two experts. I recommend it!" — Dave Richey, The Detroit News
"…the Bible for Michigan canoeists who take their sport seriously." — Gordon Charles, Traverse City Record-Eagle
"A serious gap (has) existed in the where-to-go and how-to-do-it guidebooks on outdoor sport in Michigan. Canoeing Michigan Rivers closes that gap most effectively…I welcome this book." — Tom Huggler, Outdoor Life Magazine