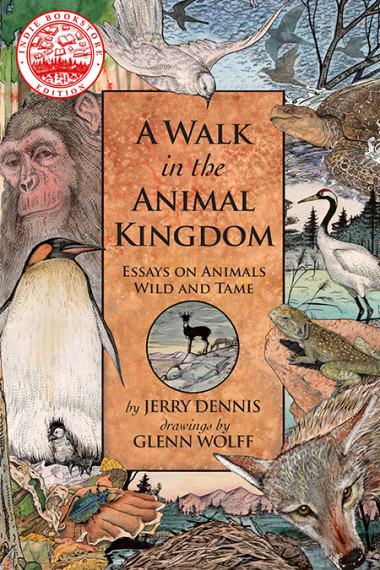 Big Maple Press, 2015
By Jerry Dennis. Illustrations by Glenn Wolff
THE INDIE-STORE EDITION
$16.95 plus shipping
---
DESCRIPTION
ANIMALS ARE EVERYWHERE IN OUR LIVES. We follow them into the wild, we invite them into our homes, they inhabit our dreams, mythologies, folklores, and popular cultures. What is this powerful bond? Why are we so fascinated with animals of every kind? And why has our relationship with them always been riddled with such complexity and contradiction?
A Walk in the Animal Kingdom explores the world of animals with the inquisitiveness, depth, and gentle humor that readers across the globe have come to expect from the acclaimed author-artist team of Jerry Dennis and Glenn Wolff. The book is an inquiry into animals of the world, their astonishing diversity and abundance; their mating habits, defensive strategies, and other behaviors; their extraordinary senses of sight, hearing, and smell. It is also an exploration of our profound connection with them, from the joys they inspire and the fears they arouse, to their prominence in our lives as pets, team mascots, and embodiments of wild nature—and the paradox that allows us to battle to protect certain species, while ignoring others that are disappearing at a rate perhaps unequaled in the history of our planet.
Like the previous collaborations of Dennis and Wolff, A Walk in the Animal Kingdom is certain to become a classic among books about nature—its wonders, its complexities, and our place in it.
_____________
A Walk in the Animal Kingdom: Essays on Animals Wild and Tame is the third volume in The Wonders of Nature Series by Jerry Dennis and Glenn Wolff. The previous books, about the wonders of sky and water, are It's Raining Frogs and Fishes and The Bird in the Waterfall.
_____________
POSTERS
Posters of Glenn Wolff's art from A Walk in the Animal Kingdom are available from Big Maple Press. They're full color, printed on 80-pound cream stock, 11″ by 18″. Price is $18 plus $3 shipping. Visit www.bigmaplepress.com to see the entire collection.