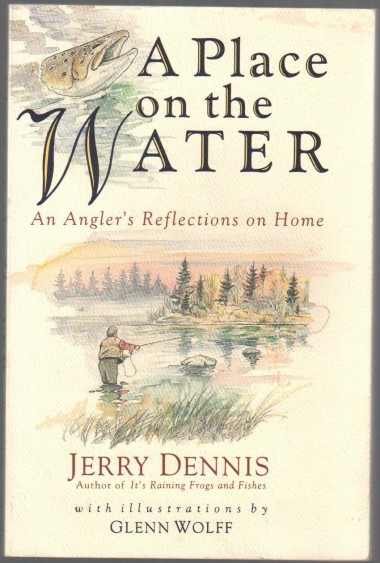 St. Martin's Press, 1993
By Jerry Dennis. Illustrations by Glenn Wolff.
Ebook edition $5.99. Select Kobo, iBookstore, B&N, and Amazon here.
---
DESCRIPTION
A Place on the Water: An Angler's Reflections on Home (St. Martin's Press, 1993). Reflective essays about growing up fishing, canoeing, and exploring the outdoors in northern Michigan and elsewhere. Michigan librarians voted it one of the 25 best books of the 20th century about Michigan or by a Michigan author.
REVIEWS
"This is a book that will remind you why you've always loved fishing, canoeing, and all the other things you can only do on the water."
— John Gierach, author of Trout Bum and Even Brook Trout Get the Blues
"Jerry Dennis is one of a handful of superb younger writers who love angling deeply and write memoirs full of warmth, eloquence, and wit. A Place on the Water is a book of many robust – and fragile – miracles." — Nick Lyons, author of Spring Creek
"Some American places seem almost drenched in something that, for lack of a better word, might be called character…there is something undeniably romantic about the Michigan woods. Something that seems to alert the poet in many of us…Jerry Dennis is in the first rank of the current literary custodians of this tradition. A Place on the Water is a collection of lyrical, haunting essays, set in northern Michigan. Many are about fishing, but that does not necessarily mean they are to be enjoyed strictly by anglers. Hemingway's "Big Two-Hearted River was about fishing, too, but can be read for pleasure if you have never wet a line…Dennis covers a lot of ground, then; but there is throughout the book a kind of constant tone, as sharp and precise as the scent of cedar. And it stays with the reader long after he has put down the book."
— Geoffrey Norman, American Way
"Michigan is lucky to have and have had such clear voices speaking for it as John Voelker and Jerry Dennis." — Gray's Sporting Journal
"Eloquent essays about the author's adventures exploring his love of land, water and nature in his beloved Michigan…Enjoyable reading with beautiful, evocative illustrations." — Sports Afield
"Every so often, a book on the outdoors comes along that is about more than just catching fish and the beauty of the dwindling number of wild things on the planet. This is one of those, and it should more properly be filed under literature rather than sports and recreation. Dennis has taken a lifetime's memories of the outdoors and made them into a book to be sample and enjoyed like a fine wine." — Booklist
"…invites and inspires us to explore nature, to reflect more on our time outdoors, and never to squander a moment doing things half-hearted." — Jackson (Mich) Citizen-Patriot
"Strong, original and truthful…A sparkling, autobiographical collection of stories that will draw you into a shared sense of time and place." — Grand Rapids (Mich) Press
"A Place on the Water belongs with the small handful of classic books about fishing and the out-of-doors. But of even more importance…it brilliantly and magically evokes small joys and life-changing epiphanies…" — Flint Journal
"A great book to curl up with beside the fireplace. I think it will be considered a masterpiece in years to come." — Delaware Journal
"Dennis is a gifted writer whose best stories evoke a true 'spirit of place,' to use a Lawrence Durrell phrase. Like fellow Michigan writer Jim Harrison, Edward Abbey, or Durrell, whose works of fiction and non-fiction would bring to life the places they wrote about, Dennis' Michigan springs to life. You can almost smell the musky riverbanks or hear the buzzing mosquitoes…You don't need to know anything about fishing to enjoy this wonderful book." — Silent Sports Magazine
"My favorite things are a single phrase: "It felt like the hand of the earth came up and grabbed my line"; and a profile, the best one I've ever seen, of the great fly-fishing writer Robert Traver… [This book] is a textbook demonstration of how loyalty to a place can produce a fascinating body of work that will be read far outside that place."
— Fly Rod and Reel Magazine