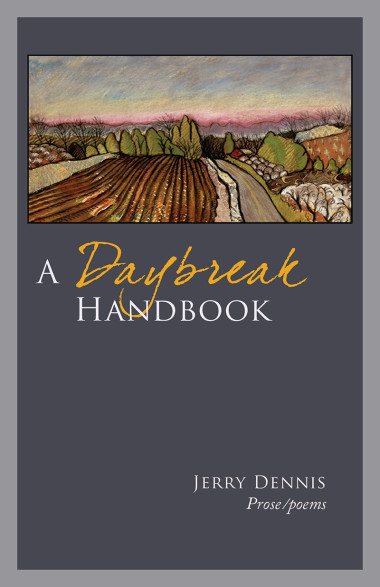 by Jerry Dennis. Illustrated by Glenn Wolff
Alice Greene & Co, 2014. 44 pages.
SALE PRICE $10.00
(includes shipping and sales tax)

"Jerry Dennis's prose has always left me electrified, pinned to the earth, as he says, while the breath of the world hits my face. Now he's written these prose poems that pull the language-knot tighter, that come from all directions at once, a 'vast instantaneous Niagara' of sensation. Driving, diving, climbing through the layers, the sixty-year old self looks the young boy he was in the face. These are rich, musical, and insightful poems. You'll read them again and again. I did."  —Fleda Brown, author of No Need of Sympathy
DESCRIPTION (from the publisher's catalog):
A Daybreak Handbook is a collection of prose, poems, and poetic fragments about time and truth, aging, manhood, and the curiosities of someone very much alive and in love with the world.
As in his nonfiction books, for which he is well-known and widely admired, Dennis brings a characteristic sensitivity and skill toward the rendering of experiences and imagery focused on the natural world. And yet, this isn't nature poetry. Instead, it's what happens when a clear-eyed chronicler looks inside himself, reviews the arc of his life, and decides to tell some of the more personal stories.
He begins with a definition of what is true, for instance, "an arrow that flies without deviation / to its target". However, here is a book that asks, tests and wonders about things more than it provides certainties. Many of the pieces revisit childhood, while others reflect the experience of a grown man who's figured out some of the conundrums of youth, and can bring a sense of levity to the business of adulthood.
In prose and poems that evoke the tenderness of fatherhood, or the way a landscape achieves its shape in geologic time—"an actual path through the actual world"—we're met with a sort of invitation to come along with him, and a sense of welcome, such that reading these pieces recalls something of the time-honored act of listening to a storyteller, perhaps around a campfire. A Daybreak Handbook is that warm and that engaging.