>> Many thanks to Canoe and Kayak Magazine for interviewing me about the new edition of From a Wooden Canoe and other stuff related to paddling, writing, and life.
>> Thanks to Lydia Lohrer, writing in the The Detroit Free Press, for selecting It's Raining Frogs and Fishes to read in her deer blind this hunting season!
>> We're getting good press! The August issue of Traverse Magazine opens with an interview with Jerry Dennis talking about the newly updated edition of his and Craig Date's classic paddling guide, Canoeing Michigan Rivers: A Comprehensive Guide to 45 Rivers (Thunder Bay Press, 2013). And this week on Michigan Radio's "Stateside with Cynthia Canty," Cynthia interviews Jerry about the book, his favorite rivers, and his thoughts about the health and welfare of Michigan's rivers, inland lakes, and Great Lakes.
>> Many thanks to Brilliant Books and Traverse Magazine for naming The Living Great Lakes as one of the eight books they recommend as great reads for a day on the beach: "Essential Up North reading from Northern Michigan's premier nature essayist. Jerry's personal and natural history of the Great Lakes takes you there and keeps you there."
>> Interview about The Windward Shore and nature writing in Kalamazoo Gazette and MLive, 3/22/13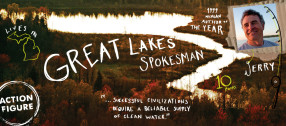 >> J.D. named a global "Action Figure" by Circle of Blue: profiling innovators who are doing extraordinary work in water, food, and energy; inspiring change around the world one idea, one story at time: http://www.circleofblue.org/waternews/2012/water_pollution/feature-stories/jerry-dennis/
>> Interview about The Windward Shore and the state of the Great Lakes on Minnesota Public Radio, 12/2/11: http://minnesota.publicradio.org/display/web/2011/12/02/midday1/
>> J.D. is the featured author on "Michigander Monday":
http://jumpingthecandlestick.blogspot.com/2011/09/michigander-monday-jerry-dennis.html
>> Two of Jerry's essays, "This Land, This Water" and "Winter Comes to the Keweenaw," both adapted from The Windward Shore, appear in the summer 2011 issue of Michigan Quarterly Review, a special issue entitled "The Great Lakes: Love Song and Lament." Read more about it at:
http://www.michiganquarterlyreview.com/2011/08/summer-2011/
>> Night Light Revue discusses The Living Great Lakes, the Bear River Writers Conference, and more:
http://nightlightrevue.wordpress.com/2011/06/01/author-jerry-dennis-shares-his-passion-for-living-the-great-lakes-at-michigan-writers-conference/
>> TEDx lecture, Traverse City, May 17, 2011: "The Art of the Blind Leap: Why Creativity Needs Risk":
http:www.youtube.com/watch?v=7ISWVhHTd_8
>> Author presentation, Ann Arbor/Ypsilanti Reads, January 2010:
http://aareads.aadl.org/video/view/6728
>> Ann Arbor Public Library podcast of J.D. interview, January 2010:
http://www.aadl.org/node/35537
>> Interview on the online magazine, Up In Michigan:
http://www.upinmichigan.org/int_dennis.html