"Autumn on Lake Michigan," the fourth and final limited-edition print in Glenn's and Jerry's series on the seasons of Lake Michigan, is officially launched. See it at our companion site  Big Maple Press. Jerry and Glenn have also released a treasure from the past: their very first collaborative artwork, "Winter's River," an ode to paddling in the quiet season that originally appeared in the New York Times and A Place on the Water, and has been in deep storage since 1993…If you'd like to receive early notification of forthcoming Big Maple Press prints, broadsides, books, chapbooks, and ephemera click on this link and we'll be delighted to add you to the list….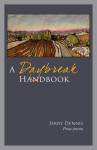 The good people at Alice Greene & Co in Ann Arbor have informed us that Jerry's chapbook of prose and poetry, A Daybreak Handbook, is about to go out of print. As with most chapbooks, when it's gone, it will be gone forever. We've acquired the few remaining copies and can offer them to good homes for $10 each, which includes shipping and sales tax. Take a look here…
The Living Great Lakes audiobook is now available in all the usual places, in both digital and CD versions. Thanks to SoundCommentary.com for this terrific review…
Jerry is honored to be the inaugural author in the Great Lakes Author Series produced by Great Lakes Now and Detroit Public TV, who are doing important work on raising awareness about issues facing the Great Lakes and Michigan….
Jerry is now Tweeting about books, nature, and the writing life; if you want to follow him, you can….
Many thanks to Keith Taylor and "Stateside" on Michigan Radio for the fine review of A Walk in the Animal Kingdom….
While we're tooting our own horn, a 5-star review of A Walk in the Animal Kingdom came our way (and another, here). The three titles in the Wonders of Nature Series are available at our favorite independent bookstores. If you can't get to an indie store, visit the newly revamped and user-friendly Big Maple Press website or visit the "Books" page here on the J.D. site….
We hope you'll sign up at the bottom of this page for Jerry's monthly newsletter, which offers observations on the seasons, updates on works in progress, and insights about the writing life. We promise your address is secure and we will never share it.