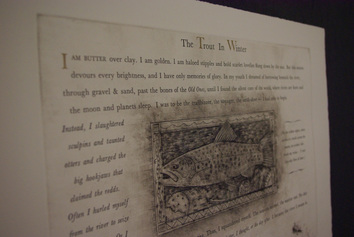 Among my greatest pleasures in a long and pleasurable career has been collaborating with artists Glenn Wolff and Chad Pastotnik. Working together in the hemlock and cedar woods along the Cedar River at Chad's  Deep Wood Press, we've done three projects together:  a limited-edition book (Winter Walks) and, now, our second limited-edition broadside.
This broadside, "The Trout in Winter," is actually a second edition, with some significant changes. The first edition, published in a signed and numbered edition of 60 in December 2000, sold out soon after it was released and has grown steadily in value ever since.  Glenn's magnificent image of a brown trout against a cosmic river bottom is  the same engraving on the same copper plate  but with the addition of an exquisite stonefly nymph in the lower right corner. Chad made some interesting changes as well. He re-inked caps with gold ink, tightened up the line and letter spacing, and made a few other tweaks to produce an even lovelier presentation of my words. We've kept the words as they appeared in the first edition, including the emergency edit that changed the text slightly from the way I originally drafted it. As we were setting type we realized that Chad was running short of lowercase "e's," creating an interesting dilemma. We could have reset the type in a different font but we had fallen in love with the Baskerville 24 pt Chad had selected.  So instead we reset some of the words and lines in italic, creating visual interest and variations in tone and emphasis that I now consider essential to the meaning of the text. To save a few additional "e's" I also edited the poem slightly. I'll never forget the three of us cheering spontaneously when we saved two "e's" by changing the last word  from "leave" to "go."
So here it is, in a new edition of 65, signed and numbered. Price is $225 plus shipping. Anyone interested should drop me an email at jcdennis(at)charter(dot)net.
And, yes, this is the final edition: Glenn plans to coat the copper plate in varnish and mount it for permanent archiving.
---